ONZIE High Rise Graphic Leggings Sol Y Luna Sustainable
Code:
2246G-SOLY-XS
Related products
Size: XS
In stock
(1 pcs)
| 2246G-SOLY-XS
Size: S/M
In stock
(3 pcs)
| 2246G-SOLY-SM
Size: M/L
In stock
(4 pcs)
| 2246G-SOLY-ML
Product detailed description
ONZIE clothing is made to be durable, sticky with every movement of your body, whether it is stretching, bending or climbing. Because those pieces are designed with functionality in mind, they can withstand even the most demanding exercises, and they are. Their shape-adapted design will surround your body in all the right places and the clothes will never lose their shape even after many wear and rinsing.
The world is changing and ONZIE know it too. The collection of sustainable leggings pays tribute to Mother Earth and global change. Mother Earth has given us so much and we are finding new ways to give it back to her.
SUSTAINABLE SPANDEX: Spandex Full Flex is now offered in a sustainable form. Leggings are made from discarded plastic water bottles. Made from 88% recycled plastic bottles and 12% spandex for mobility and comfort, which are as good for the soul as for your body .
ECOLOGICAL PRINTING: Created by sublimation printing - a sustainable alternative to traditional printing that eliminates toxic chemical processes and leads to cleaner water and lower energy consumption.
Graphic High Rise Midi Legging have a slimming raised waist that covers the hip area and lands just below the navel. They are beautifully designed to fit in shape and will stretch and move with your body. The length of the midi is slightly longer than regular capri and shorter than long leggings.
Designed in Venice, California. Made in the USA. 99% of sewing, cutting and dyeing takes place in LA.
FEATURES
Material: 88% recycled polyester, 12% spandex
Leggings are quick-drying and made so that they can stretch and adapt to body movements.
High rise
CARE
Hand or cold wash

Allow to dry freely
Also read our article about ONZIE
Size chart: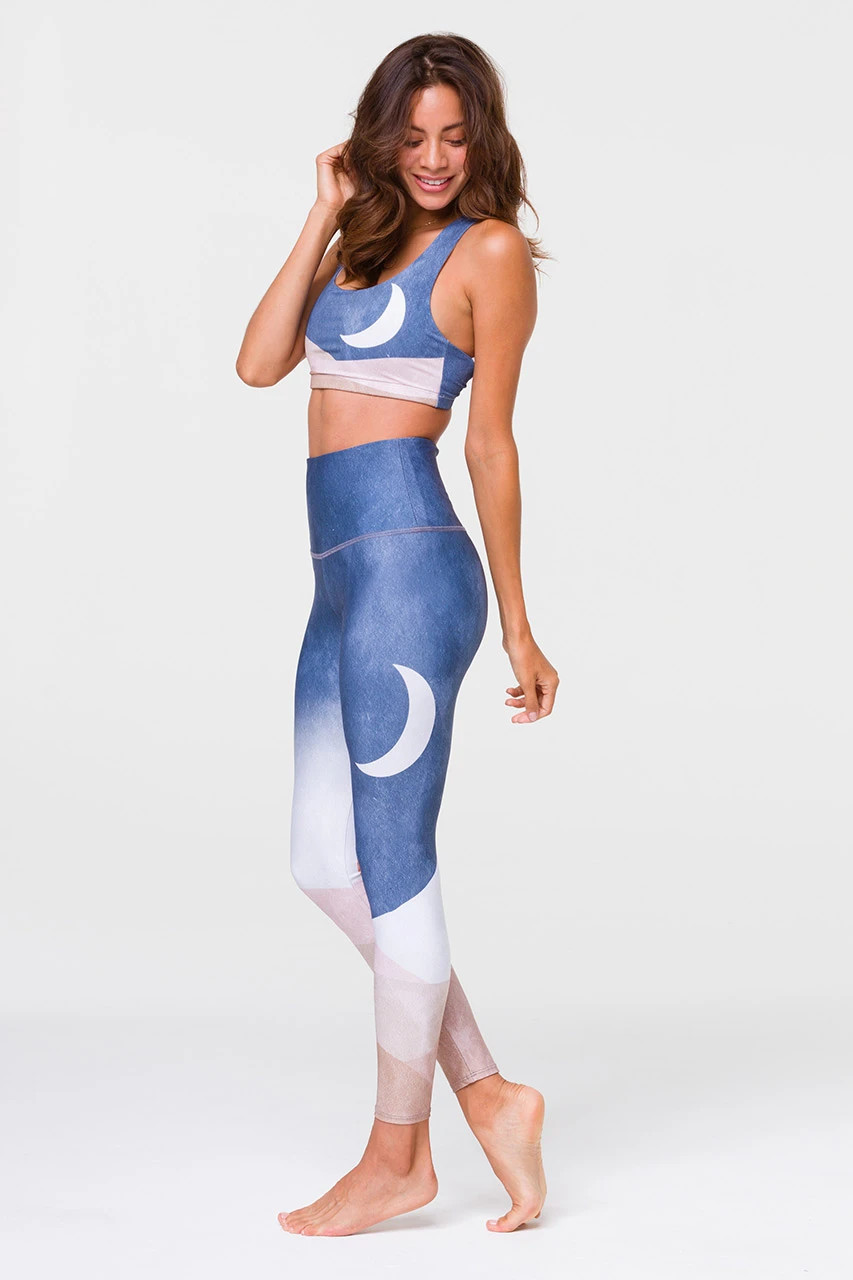 Be the first who will post an article to this item!
Only registered users may post articles. Please log in or register.
Be the first who will post an article to this item!
Behind every ONZIE piece lies a deep respect for what the human body can do. Whether you practice or work Onzie wants you to enjoy every move you make.
The brand was established in Venice Beach, California. In the epicenter of creativity and active life. It's the type of clothing you can wear for exercise, in the office and out. It constantly tests the quality and performance of every garment it produces. If something is not perfect, ONZIE is trying to do everything possible to correct it. Every piece that sees the light of the world has already met the highest standard. In addition, it maintains its production locally, with 99% sewing, cutting and dyeing taking place in LA.
At ONZIE they are proud to offer affordable high quality yoga clothing that is comfortable and additionally resistant to external influences such as salt water, chlorine and sweat. The clothing is designed with Free-Flow Fabric technology, which makes it functional, breathable and fashionable. We believe that you will also love this comfortable, high-quality and, above all, perfect design clothes.