Tachyonized EMF Home Kit
Code:
EMF-HK_H
Product detailed description
Tachyonized EMF Home Kit
Contains:
4 Tachyonized 4" Silica Disks

3 LifeGuard Cubes
How to apply Silica Disks:
Circuit Breaker Boxes - Apply the tape to the inside of the door and tape the side of the Silica Disk to the tape, with the side that reads, "Energy flows out this side" facing towards you. When the door is closed, the energy side will be facing into the circuit breakers. To ensure maximum protection, the disk must cover at least 80% of the circuit breaker.
Computer monitors - Tape a Silica Disk to the back of your computer monitor with the side that reads, "Energy flows out this side" facing the back of the monitor. Now the energy flowing from your computer is transformed from negative to positive energy.
Refrigerators - Place a Silica Disk under the crisper drawer with the side that reads, "Energy flows out this side" facing upward toward the top of the refrigerator. Foods in the refrigerator will be enhanced and positively charged.
Drinking water - Place a disk under a drinking water to charge the water to its full potential.
Bedrooms - For a restful, peaceful, healthy night's sleep apply a disk 15 cm above or below the level of your head to the headboard or the wall above your bed with the side that reads "Energy flows out this side" facing toward your head so the energy will flow through your energy field rather than through your body.
Gardens - To energize the soil and plants in your garden, place a Silica Disk in the soil at the beginning of a row with the side that reads, "Energy flows out this side" facing the length of the row. One disk will energize 4,5 meter of soil will produce an increased yield and stronger, healthier flowers and plants.
LifeGuard Cubes - These handy little cubes protect you from radiation emitted from computer devices, appliances, hairdryers, juicers, mixers, blenders, food processors, microwaves.
Simple to apply. Just snap onto the electrical cord of any device, or the battery cable of your car, and the Tachyonized energy cells in the cube restructure the chaotic, destabilizing EMF radiation creating a harmonious, coherent field of life-enhancing energy.
Be the first who will post an article to this item!
Advanced Tachyon Technologies International products - Planet Tachyon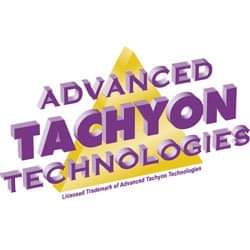 The company was founded in the early 1990s by David Wagner, author of the Tachyon Chamber, based on research by Nikola Tesla. To this day, it is the only company producing original patented Tachyon products in the world. The official manufacturer is Advanced Tachyon Technologies based in the USA. The most popular products include Tachyon Silica Discs, Pather Juice, Silica Gel, Micro Discs and Tachyonized Water. ATTI is one of the leaders in electrosmog protection (EMF) and is currently working on 5G protection.
BLOG about Tachyon energy: