Tachyon Silica Disk 10cm 3-Pack
Code:
SD-3_H
Product detailed description
Tachyon Silica Disk 10cm 3-Pack
The Tachyonized Silica Disks are directional and the energy side is indicated by the words "Energy flows out this side". Tachyonized Silica Disks are composed of a special silica dioxide scientifically developed for the high-tech industries. Silica is a great conductor and creates powerful cells.
The field is very focused, like a flashlight and extends approximately 4.5m. Tachyons pass through all materials.
The Silica Disks themselves are very thin and tend to break easily. For this reason they have been laminated. In the event your Silica Disk breaks, the lamination will hold all the pieces together and the disk will remain completely effective! It is important that you leave the Silica Disk in the lamination.
How to use Tachyon Silica Disk:
For Laptops - Tape the Silica Disk to the back of the screen as directed for all other monitors. Don't adhere it to the bottom of your laptop, as this area heats up and you run the risk of blocking the ventilation ports with the disk.
For Refrigerator - Place Tachyonized Silica Disks under the crisper drawers in your refrigerator so that the side that says "Energy flows out this side" is facing upward towards the top of the refrigerator. You are energizing everything above the disks, raising the bioenergetics of all your fruits, vegetables.
Drinking water - Place a gallon of water on a Tachyonized Silica Disk and in about 5 hours the water will be charged to its full potential. This charged water is great for drinking and watering plants.
Be the first who will post an article to this item!
Advanced Tachyon Technologies International products - Planet Tachyon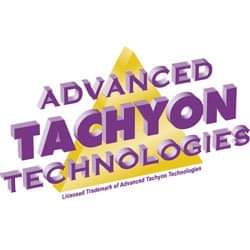 The company was founded in the early 1990s by David Wagner, author of the Tachyon Chamber, based on research by Nikola Tesla. To this day, it is the only company producing original patented Tachyon products in the world. The official manufacturer is Advanced Tachyon Technologies based in the USA. The most popular products include Tachyon Silica Discs, Pather Juice, Silica Gel, Micro Discs and Tachyonized Water. ATTI is one of the leaders in electrosmog protection (EMF) and is currently working on 5G protection.
BLOG about Tachyon energy: